The superyacht marina in Grenada in the Southern Caribbean.
Located in the beautiful Lagoon just outside St. George's, the capital, Port Louis Marina provides the perfect base from which to sail the unspoilt Caribbean Paradise of Grenada and the Grenadines.
The tranquil marina overlooks the colourful waterfront of the Carenage and has 227 berths with several berths available for yachts up to 300 feet. The 'Spice Island', as Grenada is known, lies south of the recognised hurricane belt, making it a popular marina destination for yachts and superyachts to berth during the Caribbean summer months.
"Grenada is totally unspoilt by mass tourism and development. Friendly people, fiercely proud of their island and culture, are excited to share it. Port Louis Marina, in the heart of the colour and bustle of St George's, offers easy access to a wide variety of experiences such as white sandy beaches, waterfalls, tropical rainforests and fine dining."
Zara Tremlett, Marina Manager CMM
There are few places in the world these days where true authenticity shines through, Grenada is one such hidden gem of an island that has maintained its genuine atmosphere and culture and yet, offers the amenities and service of the highest level, with regular direct flights from London, Miami, New York and Toronto, and weekly flight from Frankfurt. Inter-island connections are straight-forward from the Maurice Bishop International Airport only a short drive from the marina. Berths of up to 90m are available in a naturally protected harbour on the leeward side of the island. Options of shorter and longer leases are available.
Top five reasons to invest in a berth at Port Louis Marina, Grenada:
A genuine, authentic, unspoilt island, yet very accessible, safe and well-connected
Perfect location for sailing St. Vincent, the Grenadines and the Windward Islands
Grenada sits at 12°N and Port Louis Marina is considered a 'low-risk' from Hurricanes and tropical storms, due to being on the southern edge of the hurricane belt
Year-round and top-rated family excursions and activities available on the island, exceptional diving, authentic Caribbean cuisine, some of the world's best beaches, coupled with a busy event and party schedule
50 Hz and 60 Hz electricity, easy customs and immigration, nearby boatyards (242 ton travel lift) and great crew facilities and activities
Furthermore, click here to discover the technical services available on the island for yacht and superyacht repairs and maintenance.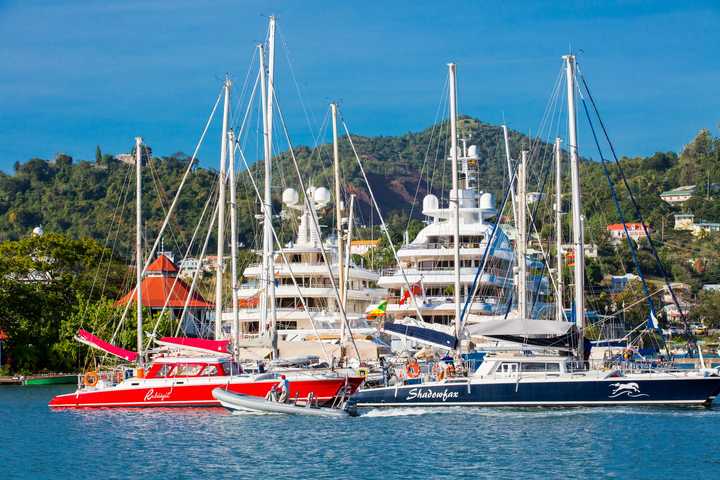 We would welcome the chance to discuss the range of shorter and longer options for lease berths with you. For an initial discussion please get in touch via the form below: